General Surgery
Access regional leaders in surgical care.
If you ever need surgery, Novant Health offers you access to skilled surgeons trained to perform surgical procedures for most conditions. From open surgery to robotic-assisted and other minimally invasive surgeries, you'll find expertise close to home. We operate in sophisticated surgical suites equipped with the latest in computerized technology to provide you with a safe procedure and quick recovery.
Finding a General Surgeon
Your condition determines the type of surgeon you'll need. A cardiologist typically performs heart surgery, while a hernia repair might be performed by a general surgeon or a urologist. Novant Health surgeons are among the top in their fields, enabling you to find an expert close to home and loved ones.
Making an Appointment
Scheduling a surgical procedure usually starts with your primary care physician or specialist. If your provider determines general surgery is a good option for your condition, they'll provide a referral so you can meet with one of our surgical experts. Your surgeon will evaluate the details of your case, discuss your options and devise a treatment plan. They'll also determine if you should go to an outpatient surgery center or stay overnight at one of our facilities. You'll receive direction on how and when to schedule your procedure.
General Surgery Procedures
Depending on the nature of your adrenal condition, your body may not respond to medications or hormone therapy. Your care team may recommend surgery on the adrenal or pituitary gland when that happens. Our surgeons use minimally invasive surgical techniques whenever possible to minimize pain and scarring and quicken recovery.
When your appendix gets infected or inflamed, it can cause pain and serious complications. Left untreated, it can burst, with potentially life-threatening consequences. Removal of the appendix is a safe and routine procedure at Novant Health. Your surgeon will remove the appendix using a minimally invasive laparoscopic technique.
The bile duct connects several vital abdominal organs, so a blocked or infected bile duct can cause symptoms such as fever, pain, nausea or jaundice. Our surgical team will identify the location of the blockage or infection and design the best treatment plan.
Lifestyle and dietary changes can help you manage some conditions of the esophagus. But in serious cases, like those complicated by a hernia, you may need surgery. Your surgeon will repair the hernia and reduce your reflux.
The gallbladder produces bile to help digest fat. Sometimes, the bile hardens and blocks the bile duct. That can cause your gallbladder to swell, resulting in sharp back and abdominal pain, especially on the right side. In severe cases, you may need to have the gallbladder removed.
A hernia results when an organ bulges through the wall of muscle surrounding it. Hernias are often associated with the groin but can occur in other spots. In most cases, our surgeons can repair hernias with a minimally invasive procedure, enabling you to heal quickly.
Depending on your medical history, preferences and specific condition, our surgical team includes experts in critical liver surgeries. Highly experienced at liver resections (removing part of the liver), placing a shunt to promote normal blood flow, doing a biopsy, or paracentesis, a procedure to remove fluid that has built up in the abdominal cavity.
Parathyroid conditions can cause hormonal imbalances, resulting in symptoms including pain, fatigue, confusion, memory loss or excessive urination. Most surgeries on the parathyroid glands are meant to remove overactive or compromised parathyroid glands that don't respond to other therapies.
If your spleen becomes diseased, enlarged or ruptured, you may require surgery to remove it. Fortunately, your body can still function without a spleen. Our surgeons can remove your spleen with a few incisions, so you can usually resume normal daily activities quickly.
Our surgeons regularly perform standard and emergency stomach procedures. Surgical procedures include removing parts of the stomach (gastrectomy), cutting nerves to the stomach (vagotomy), modifying the connections between the stomach and intestines (gastrojejunostomy), and removal of the lower third of the stomach (antrectomy) to cure ulcer disease.
Thyroid conditions are typically treated with medication, but a biopsy may be necessary to determine whether your thyroid is the cause of the symptoms. Depending on the biopsy results, your surgeon may remove all or part of the thyroid gland.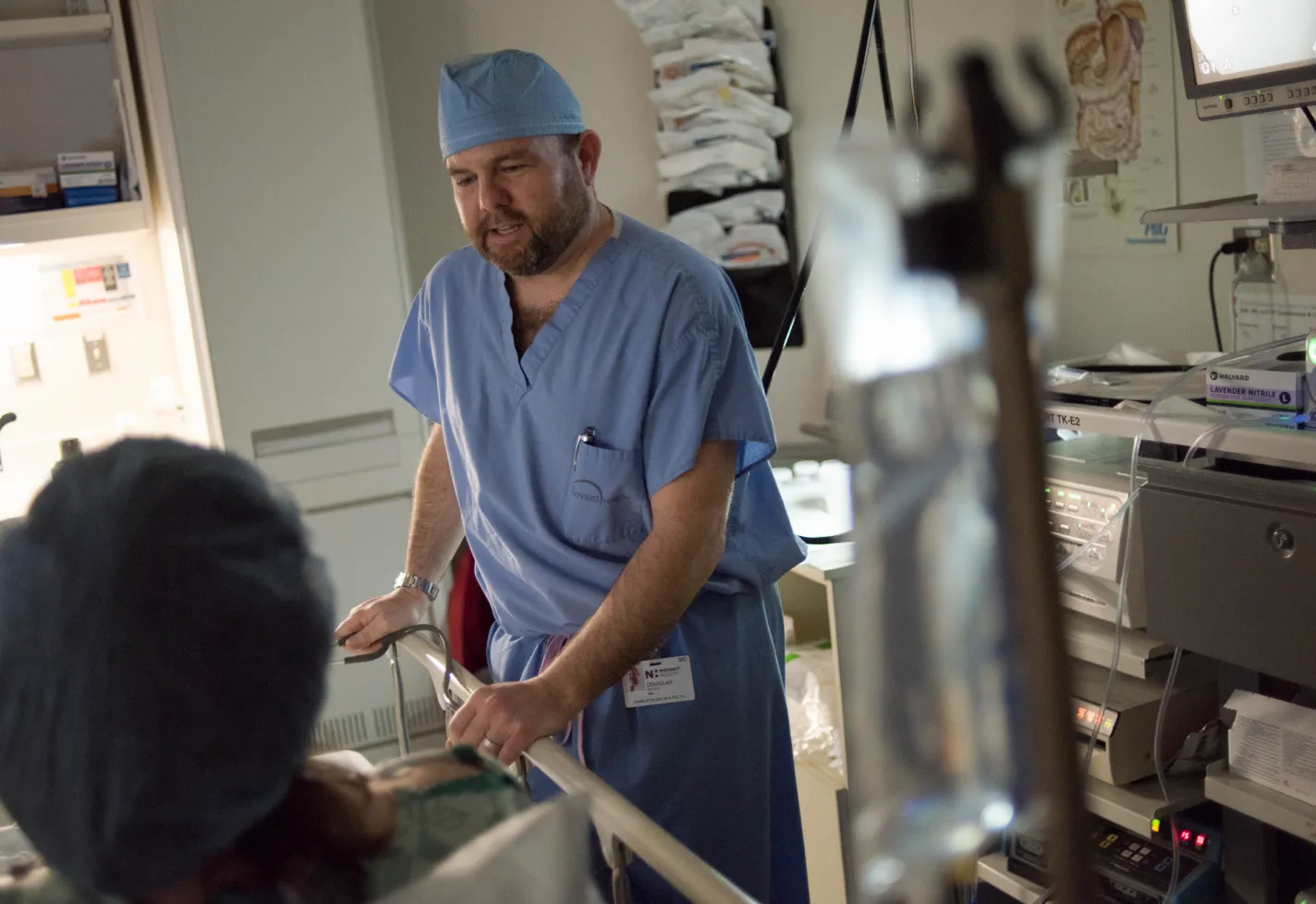 Safer, Faster Recovery With ERAS
Our surgeons adhere to the Enhanced Recovery After Surgery (ERAS) care pathway.
This means your entire care team follows scientific-based methods before, during and after surgery designed to reduce your pain, reduce your recovery time and enable you to go home faster.
General Surgery Residency for Graduate Students
Novant Health partners with the UNC-Chapel Hill School of Medicine to offer special residency programs in graduate medical education.
Learn more about our five-year categorical residency and one-year preliminary program in general surgery.