Uterine Cancer
Specialized expertise for your cancer care
A uterine cancer diagnosis can be overwhelming. At Novant Health Cancer Institute, our collaborative team approach to cancer care brings together experts from surgical and medical oncology, radiology, pathology, nutritionists and psychosocial support to treat all your needs. Your patient navigator will guide and support you throughout your treatment so you can focus on your recovery. You'll have access to the latest treatments, including innovative therapies from clinical trials.

Understanding uterine cancer symptoms
The most common symptoms of uterine cancer are unexplained or abnormal vaginal bleeding or discharge and vaginal spotting. If you haven't yet gone through menopause, abnormal bleeding may include an unusually heavy or prolonged period, a watery flow, or unexpected bleeding. If you're menopausal or postmenopausal, get checked if you notice any bleeding. You may also experience pelvic pain.
What is uterine cancer?
Uterine cancer is the fourth most common cancer among women in the United States. There are two main types of uterine cancer. Most women are diagnosed with endometrial cancer, which affects the lining of the uterus. Only about 10% of women are diagnosed with uterine sarcoma, which affects the uterine muscle.
What causes uterine cancer?
As you get older, your risk increases. Other common risk factors for uterine cancer include:
The balance of hormone levels in your body
Getting your period at a younger age
Entering menopause later
Never having been pregnant
Advanced Surgical Care for Uterine Cancer
Our providers are skilled with modern, technology-assisted surgical procedures. Using the da Vinci robotic surgical system, our surgeons can perform less invasive operations with smaller cuts, shorter recovery times, and less pain for you.
Some patients require a hysterectomy, depending on the nature and location of uterine cancer. That involves the surgical removal of the uterus and cervix. A laparoscopic hysterectomy, performed with robotic surgical tools, is a minimally invasive alternative to a traditional hysterectomy.
The same minimally invasive techniques used to perform a laparoscopic hysterectomy can be used to locate other cancers. This procedure allows your surgeon to more accurately determine the nature and extent of the cancer and find the best course of action for your treatment.
Besides treating uterine cancer, our gynecological team performs procedures for benign growths, precancerous growths and other uterine-related conditions. These include identifying and removing uterine fibroids to preserve fertility, noncancerous postmenopausal vaginal bleeding and endometriosis.
Uterine Cancer Nonsurgical Treatments
Chemotherapy uses powerful drugs to attack cancer cells in conjunction with surgical procedures or on its own. Chemotherapy drugs may be administered in various ways, depending on what your provider decides is the safest, most effective approach for you.
Radiation therapy for uterine cancer uses targeted high-energy X-rays to destroy the cancer cells or slow their growth rate. Your care team may decide to use radiation therapy before, after, or at the same time as other treatments and procedures to maximize the chances of success. Modern radiation therapy techniques like Image Guided Radiation Therapy (IGRT) and Intensity Modulated Radiation Therapy (IMRT) allow a much higher degree of precision in targeting the specific areas where cancer is growing.
Immunotherapy uses your body's immune system to help fight cancer. Your body typically has limits on the strength of your immune response to ensure normal functioning. Unfortunately, those limits can also stop your body from fighting cancer cells effectively. With immunotherapy, specific drugs may reduce or remove those limitations, allowing your immune system to fight cancer more aggressively.
Meet your uterine cancer team.

Gynecologic oncologists
Your care team will be led by a gynecologic oncologist, a highly specialized expert in cancers of the female reproductive system. Your gynecologic oncologist can diagnose uterine cancer and manage your overall treatment including chemotherapy and immunotherapy. A gynecologic oncologist is also a surgeon, skilled at performing complex surgeries using the latest technology-assisted surgical equipment. As one of the top performers of robotic gynecological surgery in the state, the team of surgeons at Novant Health Cancer Institute use minimally invasive techniques whenever possible, so you can heal more quickly.
Radiation oncologists
As part of your collaborative cancer team, your radiation oncologist prescribes, oversees and performs any radiation therapies you may require.
Fertility specialists and other providers
Treating uterine cancer involves more than just eliminating tumors. Depending on the nature of your cancer, you'll have other specialists on your side. These include a fertility and reproductive health specialist, nurse navigator, physical therapist, dietitian and counselors to help with the emotional highs and lows of cancer treatment.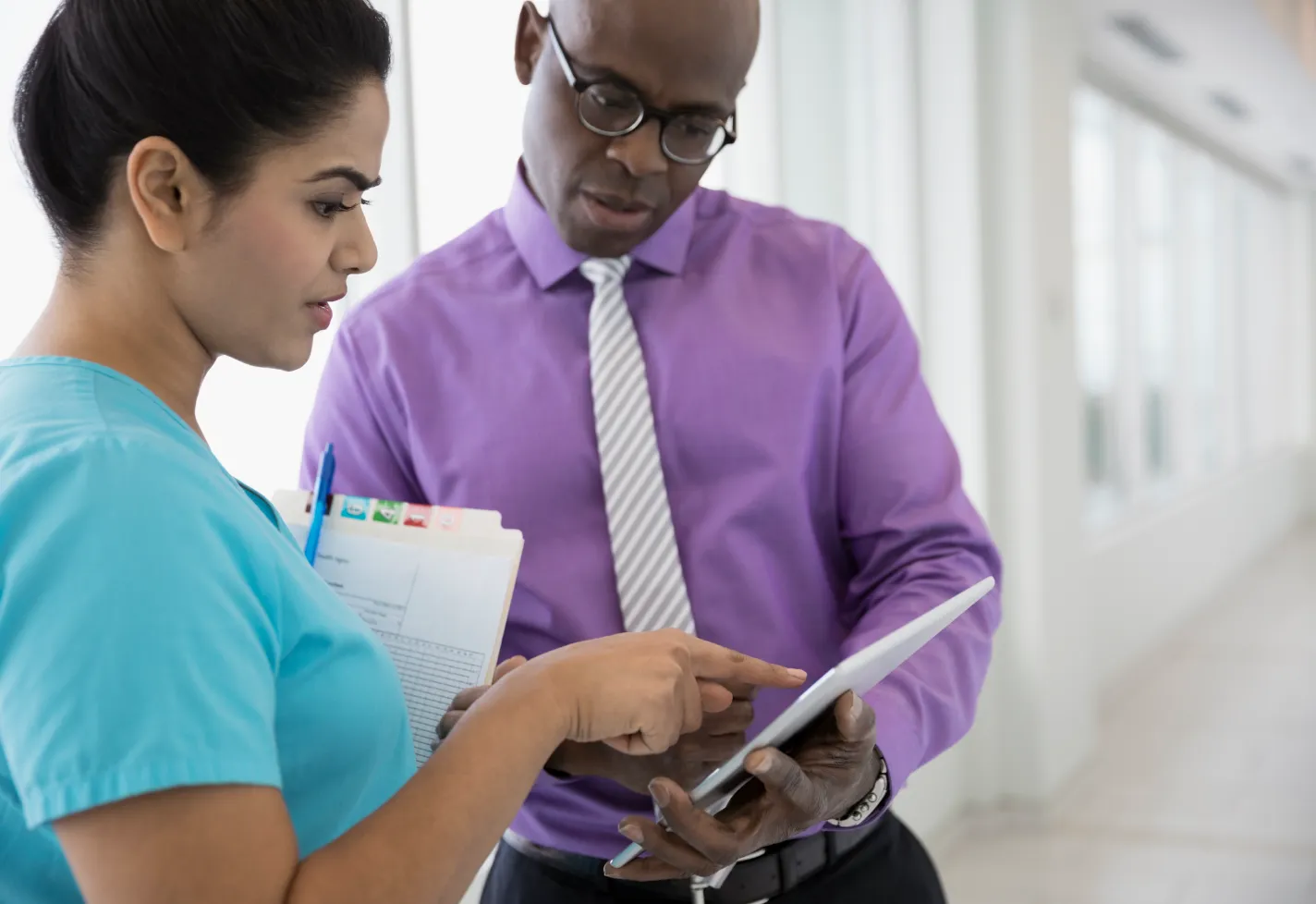 You're Entitled to a Second Opinion.
Are you concerned or confused about a cancer diagnosis or treatment recommendation you've received? Another perspective on your case and options can give you some peace of mind. Reach out for a virtual session or in-person consultation.
Experience the Future of Cancer Care, Today.
Together, we can beat cancer. Clinical research studies drive breakthroughs in the prevention, detection and treatment of many cancer conditions. If eligible to join a clinical trial, you could access new cancer treatments before they're available to the general public.
Explore clinical trials and speak with your cancer team to see if any are right for you.