Cancer
Supportive care throughout your cancer journey
When you receive a cancer diagnosis, you want answers quickly and treatment as soon as possible. The cancer specialists at Novant Health Cancer Institute work as a unified team to get you started on the best treatment path.
You deserve the most advanced cancer care close to home. The cancer experts at Novant Health treat more than 100 tumor types at our comprehensive cancer treatment centers and clinics located throughout North Carolina.
Novant Health Weisiger Cancer Institute Facility Tour
From the Cancer Institute Director
If you are visiting our page, you or someone you care for likely has cancer or a blood disease. We are here to ensure you do not feel alone in this challenge. Our team of highly specialized experts from multidisciplinary care teams collaborate to provide the most advanced therapies in treating your disease and helping you manage your illness.
Your care needs are supported by our nurse navigators who have specialized expertise in your type of illness, along with nutritionists, integrative medicine specialists offering complementary therapies, genetic counselors, symptom management and palliative care specialists, social workers and more.
Whether it be offering first-in-human and early-phase clinical research trials, robotics, microsurgeries, or new radiation therapy techniques and technology, we are here to assure you have the best options available delivered by a team with a focus of providing you with a remarkable experience.
Wishing you good health.
Dr. David Rizzieri, MD, CPE
Agnes B. and Ed I. Weisiger Endowed Chair for Cancer Research
Clinical Professor of Medicine, UNC School of Medicine
System Physician Executive and Senior Vice President
Novant Health Cancer Institute
Specialized care for your cancer diagnosis.
There are hundreds of different types of cancer. Whatever your cancer diagnosis, you can rely on the skilled cancer care team at Novant Health Cancer Institute. We tackle the rarest and most challenging conditions with the latest advancements and clinical research. You will receive the highest level of cancer treatment and recovery planning to help you manage your cancer symptoms through support resources. Cancers we treat include the following, but we offer support for all cancer types.
Leading-Edge Cancer Treatments
You're not alone in your fight against cancer. Our nationally recognized cancer teams work with you and your family to develop an individualized treatment plan. Together, we can move forward to treat your cancer, manage your symptoms and provide support at all stages.
Nationally Recognized Care
National Accreditation Program for Breast Centers (NAPBC)
Commission on Cancer (CoC)
Quality Oncology Practice Initiative (QOPI)
Radiation Oncology Practice Accreditation (ROPA-ACR)
APEx Accreditation (ASTRO)
Magnet Recognition-American Nursing Credentialing Center
American College of Surgeons National Surgical Quality Improvement Program (NSQIP)
National Committee for Quality Assurance (NCQA)
Southeast Clinical Oncology Research Consortium (SCOR)/National Cancer Institute (NCI) Community Oncology Research Program
Foundation for the Accreditation of Cellular Therapy (FACT)
National Accreditation Program for Rectal Cancer (NAPRC)

Cancer care for all your needs delivered locally
Find comprehensive expert cancer care and resources close to home at Novant Health. From state-of-the-art diagnostics and infusion stations designed for socialization or privacy to community and educational resources, our cancer care centers make receiving treatment and getting services convenient. Learn more about our comprehensive cancer facilities.
Experience the Future of Cancer Care, Today.
Together, we can beat cancer. Clinical research studies drive breakthroughs in the prevention, detection and treatment of many cancer conditions.
If eligible to join a clinical trial, you could access new cancer treatments before they're available to the general public. Explore clinical trials and speak with your cancer team to see if any are right for you.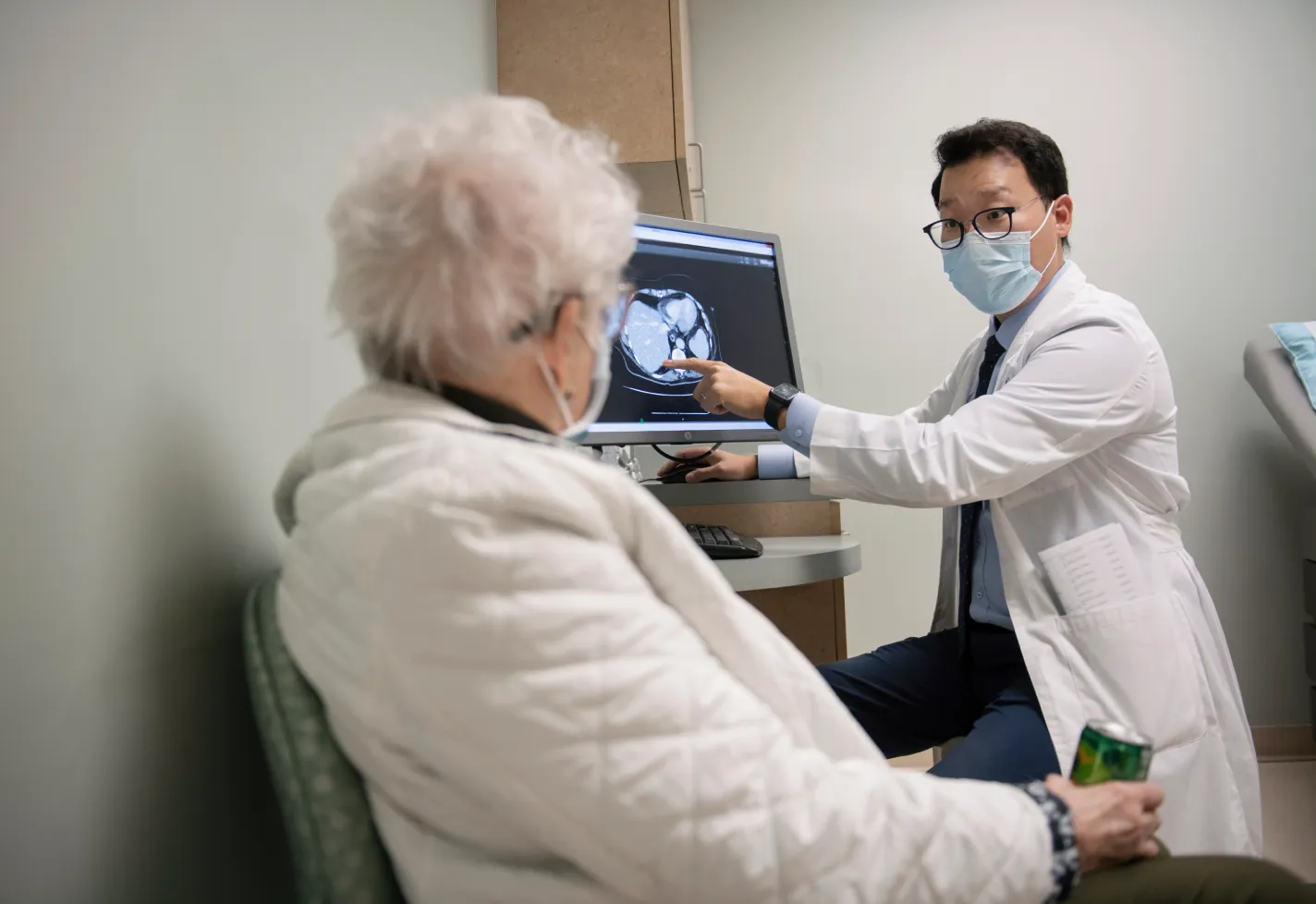 Profiles in Courage
A cancer diagnosis is life changing. We will help you navigate your path forward with courage and hope. Discover the meaning of survivorship from 21 people who share how their experiences helped them live fuller lives.
The Unexpected Gift: Profiles in Courage from Cancer Survivorship was written by Dr. Ophelia Garmon-Brown, physician, community leader and survivor. All proceeds benefit the Novant Health Foundation.

Specialized Heart Care for You.
The same therapies that help treat your cancer can also cause strain or harm to your heart. Whether you have an existing heart condition or develop one from cancer treatment, the Novant Health Cardio-Oncology program provides access to specialists with expertise in treating cancer-related heart issues. Our dedicated cardio-oncology specialists monitor and care for you before, during, and after your cancer treatment.