Family Medicine Residency Faculty
Janalynn F. Beste, MD, FAAFP
Novant Health Family Medicine Residency Program Director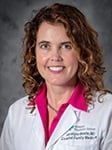 I grew up in the Eastern US, moving every few years due to my dad's job in retail. I attended Bethel College in St. Paul, MN and the University of Minnesota Medical School. It was there that I met my husband Todd, and together we decided to escape the snow and ice for warmer climates. We moved to Greenville, N.C. to complete our residencies at East Carolina University and then stayed on as faculty for 9 years. I became the Associate Residency Director in 2002 and Residency Director there in 2003. Then, in 2007, we were offered the chance to move to Wilmington, North Carolina! I took the position as Program Director and my husband became faculty in the OB/GYN residency program. He became their Program Director in 2009.
On a personal note, we have two teenage children and love to spend time on the water. Wilmington has an active arts community and we have enjoyed plays, musicals and lots of concerts, both indoors and out. My husband does triathlons and I run – we have participated in the Wrightsville Beach Marathon and Beach2Battleship Ironman in the past here in town.
I have a special interest in maternity care and children's health, particularly related to decreasing racial disparities in maternal and infant outcomes. For the past 5 years I have been the lead physician to implement interconception care at our practice through the IMPLICIT (Interventions to Minimize Preterm and Low birth weight Infants using Continuous quality Improvement Techniques) network. I am also the family physician lead for our region for the North Carolina Maternal Innovations project, as well as one of 2 physician members on our Infant Mortality Task Force, known as First Year Cape Fear. I have been an ALSO instructor and advisory faculty member for 20 years and love to teach residents all the tricks I have learned!
Catherine L. Sotir, MD
Novant Health Family Medicine Residency Program Predoctoral Education Director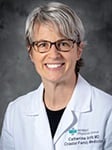 I am thrilled to be part of the Family Medicine Residency Program here in Wilmington, North Carolina! The faculty and residents create a culture of kindness and generosity. There is lots of teaching and laughter and learning. And then there is the BEACH!! After living in different parts of this country, I have never experienced sweeter beaches than here. The water is warm, soft and clean, and the waves are gorgeous. It is so much fun to experience, whether you are walking in the water under a full moon, running at the shore for sunrise, or driving up in the afternoon and jumping out of your car, and walking right into the ocean for a swim in your lab coat (as we did recently for our residency photo shoot!)

I am a native of Boston, Massachusetts. After attending college at the University of Massachusetts, I spent 8 incredible years in New Mexico, both in Santa Fe and then medical school at the University of New Mexico in Albuquerque. I moved to North Carolina for residency in Asheville.

I bring to this program 9 years of experience as a full time community Family Physician and 10+ years of experience in academics, mostly in North Carolina, teaching Family Medicine residents as well as medical students at MAHEC in Asheville and Brody School of Medicine/ECU in Greenville.

I spend my free time with my wife, Mara, and our beautiful children. My interests include vegetarian cooking and eating!, running, Energy Medicine, wellness, and healing. My goal with patients is to prevent illness and to keep them healthy physically and energetically.
Douglas J. Boss, MD, FAAFP
Novant Health Family Medicine Residency Program Associate Director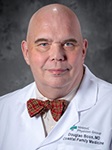 The tenth of eleven children, I grew up outside of Baltimore, moved to Colorado, did my undergraduate in Nebraska, medical school in Illinois, residency in Ohio, private practice in Michigan and Indiana before beginning teaching in Indiana and Iowa – and then I moved to Wilmington and have no intention of moving again. Professionally, I have been a career-long proceduralist and have interest in educational systems as well as quantifiable outcomes associated with continuity of care. Personally, I spend time on projects (insisting my wife label them as home improvements) and reading cheap, tawdry, science fiction.
Dr. Erin Sherwin, PharmD, BCACP, CPP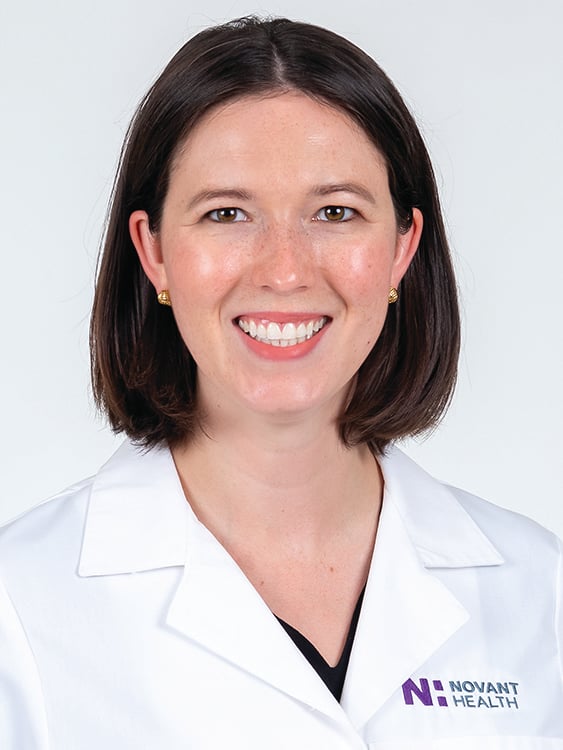 Originally from Memphis, TN, I went to college at the University of Tennessee in Knoxville (go Vols!) before completing my PharmD at the University of Tennessee Health Science Center back home. I went on to do a PGY1 Pharmacy Practice Residency at the Birmingham VA Medical Center in Birmingham, AL, followed by a PGY2 Ambulatory Care Pharmacy Residency at University of Kentucky HealthCare.
I knew early on in my pharmacy education that I wanted a patient-facing clinical role and my training solidified my passion for primary care, research, and teaching. This led me to Novant Family Medicine Wilmington and I am thrilled to serve the community here in Wilmington.
In my free time, I enjoy exploring the town, trying new restaurants, live music, the arts, reading, and swimming. I also love to travel and have many places on my bucket list. Some fun facts about me are that I actually minored in German in college (though I want to learn Spanish!), and I can sing!
Latonya Beatty, MD
Novant Health Family Medicine Residency Program Clinical Faculty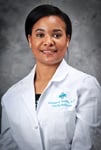 I am a local as I grew up in a surrounding county, Columbus County. I graduated from East Columbus High School in 2004 and then went on to East Carolina University for my undergraduate. I've taken the non-traditional route into medicine. I have a nursing background where I was initially an RN for 3 years and then I went on to become a FNP. I practiced as a Family Nurse Practitioner for 2 years at a Community health center in Whiteville, NC. Throughout my nursing career, I've had wonderful experiences in the hospital and clinical settings that has significantly increased my passion for family medicine. My desire to increase my scope of practice and my thirst for more knowledge could not be quenched.
I then went on to medical school at USAT in Montserrat. I completed my residency training in Family Medicine at New Hanover from 2016-2019. Afterwards, I relocated to Asheville, NC for one year to complete a High risk OB fellowship at MAHEC. After the fellowship, I moved back home to Wilmington, NC to join Mednorth to practice full spectrum family medicine for an underserved population, a strong passion of mine! We see patients of all ages, including OB and newborn. When I'm not at MedNorth, I have the privilege of teaching residents at the New Hanover Family Medicine residency program.
I chose family medicine because I want to work with patients and their families across the span of a lifetime. I want to become an integral part of each patient's life and this specialty is the perfect opportunity to foster long-term relationships. My interests within FM include full spectrum w/OB, women's health, rural medicine, preventative medicine, Health Equity, and addressing maternal/infant mortality rates.
Mary Meadowcroft, MD
Novant Health Family Medicine Residency Program Clinical Faculty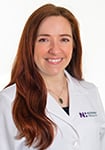 I grew up in eastern North Carolina near Fayetteville. After graduating high school, I studied linguistics at the University of North Carolina at Chapel Hill. I attended Geisinger Commonwealth School of Medicine in Scranton, PA for both my master's in biomedical sciences and my medical degree. I missed North Carolina (especially the weather, it was far too cold up north) and decided to come back south for my residency. I spent a month of my fourth year of medical school here at Coastal Family Medicine and fell in love with the culture, the people, and the clinic. Learning and patient care are priorities here along with laughter and fun. Being near the beach doesn't hurt either. I enjoyed the program and location so much that I decided to stay on as faculty after graduation. Living in Wilmington has been awesome. I love being able to take a quick drive to the beach after a long day at work and just sit and watch the water. When I'm not on the beach, I can be found reading, doing yoga, and exploring the local artisan markets. I enjoy full spectrum family medicine and after finishing my residency here, I feel ready for just about anything!
Mayra A. Overstreet-Galeano, MD
Novant Health Family Medicine Residency Program Clinical Faculty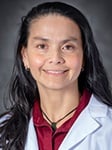 M. Alicia Overstreet Galeano, MD serves as a preceptor for residents on the inpatient service as well as at Coastal Family Medicine and at MedNorth Health Center where her clinical practice is based.
Before starting a career in medicine, she spent 10 years doing environmental health research based at Duke University.
She stays active with bike commuting, running, and cooking. Her clinical interests include maternity care, preventive medicine, holistic care, interdisciplinary medicine, and promoting Family Medicine as a specialty in the US and internationally.
Kathleen Young, MPH, PhD
Novant Health Family Medicine Residency Program Behavioral Medicine Education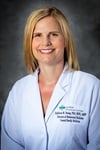 I was born and raised in rural Arkansas, the daughter of a family medicine physician and a kindergarten teacher. After I graduated from Hendrix College in Conway, AR, I moved to northeastern NC to participate in the Teach For America program. My interest in health and well-being led me to pursue a PhD in psychology at Bowling Green State University, where I was able to study health psychology, behavioral weight management, substance use disorders, and behavior change. After completing an internship at the Boston Consortium, I moved to Jackson, MS to complete a postdoctoral fellowship alongside a family medicine residency program. During my fellowship, I learned that I enjoy practicing psychology in primary care, and that I love working with residents! I took a position as Director of Behavioral Science and Director of Research at the family medicine residency program at Albany Medical College in 2013. In 2015, I returned to the University of Mississippi Medical Center as Director of the Clinical Skills Center. Although I enjoyed working with medical students and standardized patients, I am happy that I have returned to family medicine residency education here in Wilmington.
When I am not at work, I enjoy being outside. Physical activity is priority in my life. I'm usually happiest when I'm near the water. Travel, reading, and the arts are passions of mine. I am also a die-hard Arkansas Razorback fan.
I believe that it is important to live a life that is in line with one's values, as that is the most likely path toward personal and professional wellness. This belief is a large part of what led me to join the faculty of the Family Medicine Residency Program in Wilmington. It is a privilege to work with others who strive to provide excellent education and patient care within a supportive professional environment.

Family Medicine Residency Program Leadership
Janalynn Beste, MD, FACP
Family Medicine Residency
Program Director
Dr. Kathleen Young, MPH, PHD
Family Medicine Residency
Associate Program Director