We believe: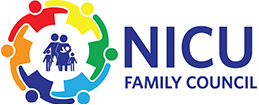 All NICU journeys are unique.
Family members are the most important members of their child's healthcare team.
Open communication between medical staff and NICU families is fundamental to providing the best patient care.
Sharing resources and communicating options is critical to the decision making process regarding a baby's welfare.
Everyone communicates and receives communication differently.
If you currently have a baby in the NICU or are just starting your journey at home, check out our list of resources for information about emotional, financial and other types of support. Also, if you would like to provide support to other NICU families through volunteering, please complete our volunteer form to get plugged in.