The biggest way to improve your sex life comes wrapped in a suggestion most people never think of: Talking about it.
That's the message from Dr. Alyse Kelly-Jones, an ob-gyn with Novant Health who stresses the importance of having more honest and shame-free talks with our partners and our doctors. And, she adds, women need to tell their doctor when sex is painful, a problem that affects three out of four women at some point in their lives.
While many women and men avoid the subject, Kelly-Jones is rhapsodic over the importance of discussing sex. Why? Because being open about sexuality can not only lead to better sexual experiences, but more importantly, a better quality of life.
For years, researchers have studied the way sex contributes to overall well-being. Not only does it relieve stress, but it also can also promote your cardiovascular health. Men and women who report a satisfying sex life have significantly lower odds of undiagnosed and uncontrolled high blood pressure, one study found.
Kelly-Jones who practices at Novant Health Women's Sexual Health & Wellness - SouthPark in Charlotte is tackling the topic one conversation at a time. At a recent event, "Keeping it Hot & Spicy: Tips and Tricks for a Healthy Sex Life at Any Age" she started with a provocative question. "Why is it so difficult to talk about sex with the person I'm in love with?"
We spoke with Kelly-Jones, who dispenses advice that is both spot on, and very specific - and she sugarcoats nothing.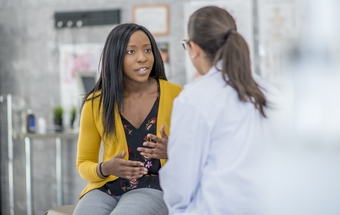 In need of an OB-GYN? Find one in a few clicks.
When in doubt, loop the doctor in
Kelly-Jones: Ob-gyns get asked a ton of questions about sex. Really everything from not wanting to have it to having painful intercourse. I've been in practice for about 20 years and when I started getting these questions my advice was probably not that helpful. But I wanted to learn more and be a better provider, so I started educating myself by going to conferences. My first conference was through the International Society for the Study of Women's Sexual Health and I was blown away.
I think your doctor can be a great resource not just for your reproductive health issues but also questions you have about your sexual health. Even if your doctor doesn't have a good answer for your question, which happens, then she or he would be able to at least point you in the right direction

Sexual shame?
Kelly-Jones: A good starting point is to know that you have sexual shame. We all have it, in fact. The thoughts and feelings of embarrassment we have about our desires and bodies. We're ashamed of what we want in bed, what we desire from our partners and what we look like, the list goes on. But shame silences us from getting what we really want not only from our partners, but also from each other. Instead of asking what we really want, we numb it.

Painful sex? Help is available
Kelly-Jones: Sex shouldn't hurt and if you're having sexual pain and you're not getting the answers you need, seek out another practitioner until you get your answers. Go see another doctor. Get a second opinion. Women sometimes think that a yeast infection could lead to painful sex but that's a common misconception, for example.

There's lots of health issues that could lead to painful sex. Some of them, for example, can be related to menopause. It's widely known that menopausal women encounter pain during sex but not all of them get the help and relief they do need. And I'm trying to change that.
Curious to how you can get rid of sexual shame? Here's a start
There are five key things you can do to try to fight, and eventually get rid of, sexual shame, according to Kelly-Jones.
Be aware that you have sexual shame.
Decide whether you agree with the messages you tell yourself of what you should be ashamed of. Maybe it's your mom or a friend who told you that you're fat. It made you feel ashamed. We live in a world where we're always getting messages on what we should look like, what our bodies should be like and even the type of sex we should and shouldn't have.
Examine the message that you're questioning and ask yourself if you authentically agree with it.
Create a new message for yourself. Any kind of message that you know that you can agree with that isn't going to make you feel ashamed of who you are and what you want.
Enjoy yourself. Have fun! Relish the pleasure.
Do you have questions about your sex health? Start by making an appointment with one of our providers.